Beginning to panic because you haven't even begun your holiday shopping? Here is a just in time unique idea – give the gift of time with a corn and bamboo watch. I own one and I recommend it.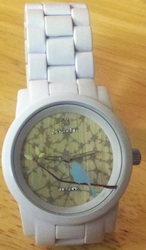 Sprout Watches manufactures a line of eco-friendly watches that contain corn resin and bamboo. The watches come in multiple colors, but I chose white because of its neat design on the watch face. Each color watch has a different earth themed design to go along with its earth themed materials.
But back to the corn resin. It's used as a component of the plastic, rather than using petroleum-based products. Nice, right?  Sprout promotes the technology on its website and notes that corn resin pellets sequester far less fossil fuel and emits much less greenhouse gases.  In addition, the watches are biodegradable and will not leach toxins into the ground. If you want to learn more, they have some neat graphics to demonstrate the process from stalk to watch.
So why did this make my holiday gift guide other than the fact it's awesome? Because it is another example of what our corn farmers across the country are bringing us today and a glimpse of what they will be helping to bring to use in the future – a myriad of products that are petroleum free.