EnterSolar has completed a 185 kilowatt (kW) solar photovoltaic (PV) system on the roof of Ultrachem Inc.'s corporate headquarters in New Castle, Deleware. Motech panels were used for the solar system that will generate approximately 200,000 kilowatt hours per year, enough energy to supply all the building's yearly energy needs.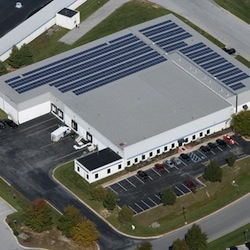 The project is participating in the Delaware SREC Pilot Program and is interconnected to the New Castle Municipal Services Commission's utility system.
"We are pleased to announce the completion of this major renewable energy project," said Bob Whiting, President of Ultrachem. "Not only will the system improve the environment by reducing our reliance on traditional fossil fuels, it also relieves our energy burden from the electric grid during peak hours which benefits the community."
The  solar photovoltaic system features Delaware-manufactured Motech solar panels, two central inverters and a string-level data acquisition system.
Derick Botha, Vice President of Sales and Marketing at Motech Americas, said: "We are very pleased to be working with EnterSolar providing panels manufactured in Delaware.  It is encouraging to see responsible companies in our state taking initiative to support local manufacturing while helping the environment and creating value for themselves."
"By installing their new solar PV system, Ultrachem has further established themselves as a community business leader while demonstrating how companies can 'do well, by doing good'," said Paul Ahern, President of EnterSolar, "In addition to supporting the environment, Ultrachem will also see a significant reduction in electricity costs while mitigating future power price increases."