The House and Senate Armed Services Committees finalized the National Defense Authorization Act of 2013 (NDAA) yesterday and today Congress stood behind the military by passing the Act without including controversial proposals that would have banned the Department of Defense from expanding its use of advanced biofuels.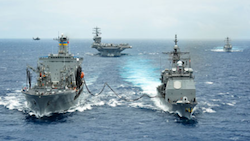 In response to the passage, Jim Greenwood, CEO and president of the Biotechnology Industry Organization (BIO) said, "Military leaders have recognized that building a domestic advanced biofuels industry to produce cost-competitive fuels is a national security priority. They have responded to this need in the same way the United States has responded to similar challenges in the past – by proposing public-private partnerships to produce the needed materials."
He noted along with other industry leaders that the passage of NDAA will clear the path for the Department of Defense to participate with other federal agencies in partnership with private companies to continue to develop and deploy biofuels for military use.
In a recent report, E2 concluded that more than 14,000 jobs and more than $10 billion in economic activity could be created if the military meets is biofuels goals. The Navy and Air Force have a goal of sourcing 50 percent of their fuel needs from advanced biofuels by 2020.
"Just like it did with industries ranging from aviation to the Internet, the military is leading the country on deploying advanced biofuels," said Nicole Lederer, co-founder of Environmental Entrepreneurs (E2). "By turning back short-sighted attempts that would have kept the military dependent on a single fuel source – oil – Congress has cleared the way for the Department of Defense to continue to make investments in advanced biofuels that will have positive impacts on the industry and our economy."