Wilsons Fuel Company, based in Canada, has become a partner with Alliance AutoGas. The partnership will bring propane fueling to Nova Scotia, New Brunswick, Prince Edward Island, Newfoundland and Labrador. The two companies will also provide fleet vehicle conversions to propane autogas.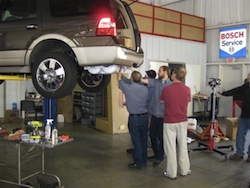 "We joined Alliance AutoGas because it is the world's most reliable program to help fleets switch to autogas," said Gary Highfield, general manager at Wilsons. "Autogas is the most viable fuel on the market for fleets because it's clean, it costs less than gasoline and installing autogas fueling stations is not expensive. As an Alliance partner, we're now able to help fleets throughout Atlantic Canada start saving on fuel costs right away by running vehicles on autogas."
With the joining of Wilsons Fuel to the network, the Alliance now offers services in 40 states and two countries. The program provides fleets vehicle conversions, fueling, on-site fuel station installation data integration training and ongoing technical support.
Stuart Weidie, president of Alliance AutoGas and founder of Autogas for America added, "The addition of Canadian partners like Wilsons plays a key role in the continuing international expansion of the Alliance AutoGas network. It only makes sense that such a well-established company, which generations of customers have come to know and trust, now provides local fleets with the most affordable, dependable transportation fuel on the market."