Student Transportation has been awarded a contract with Omaha and Milliard Public Schools in Nebraska to transport students with propane autogas school buses. The company will provide nearly 300 buses with more than 400 to be fueled with propane. The contract will begin in August 2013.
To best serve the schools, Student Transportation will open at least three facilities in the Omaha metro area. Blue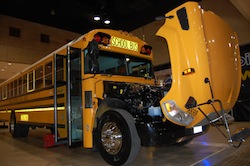 Bird Corporation will manufacture the propane autogas buses equipped with ROUSH CleanTech liquid propane autogas fuel system technology. The remaining buses in the fleet will be provided by IC Bus, a division of Navistar.
STI Chairman and CEO Denis J. Gallagher said, "Domestically-produced, clean-burning propane autogas is a perfect fit for school fleets with up to 30 percent less greenhouse emissions. By running propane-powered buses, Omaha Public Schools can reduce their carbon dioxide emissions by 2,310,469 lbs. per year, significantly lowering the school district's carbon footprint, which was its goal for the coming year."
According to Student Transportation, propane sales currently contribute more than $122 million to Nebraska's economy.
"This large deployment is the catalyst that alternate fuels needed to become a viable and reliable fuel source for school transportation," said Gallagher. "We have been leaders in this area and have been pushing and working with our manufacturers to have a final product that can lower greenhouse emissions and lower costs at the same time. We wanted a large project to roll out our initiative in this area so school districts around the country can see there is a better way to transport children to school with a lower cost of operation. "