Solar Energy International has released a series of textbooks and online training materials for use around the world for technical renewable energy training and workforce development. The Solar Energy International Textbook Series will be released throughout 2013.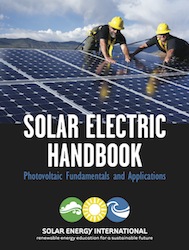 Kathy Swartz, Interim Executive Director for SEI said, "When SEI was selected by the Department of Energy to be part of the Solar Instructor Training Network (SITN) we saw an immediate increase in requests for our textbook. The SITN is composed of nine Regional Training Providers (RTPs) to help fulfill a critical need for high-quality, local, and accessible training in solar system design, installation, sales, and inspection through train-the-trainer programs."
She added that the nine RTPs are well-established solar training institutions that offer expert trainers and first-class training facilities across the U.S., and that SEI has a goal of helping to create a well prepared solar workforce.
The textbooks contact photos of PV applications, informational graphs, and interviews with professionals throughout the industry. This textbook series includes both introductory topics for people just entering the field and highly technical textbooks for solar professionals. Book titles include: Introduction to Renewable Energy; Solar Electric Handbook: Photovoltaic Fundamentals and Applications; Solar Electric Handbook: Advanced Photovoltaics for Solar Professionals; and
Solar Electric Handbook: Battery Based Photovoltaic Systems. Click here for more information.