Solazyme has confirmed they have completed several initial fermentation runs at ADM's facility in Clinton, Iowa. According to the company, the runs achieved commercial scale production metrics, exhibited linear scalability of its process from laboratory scale, and demonstrated the ability to run at this scale without contamination. The fermentation process is one of the critical steps needed to convert feedstock to biofuels, biochemicals or biomaterials.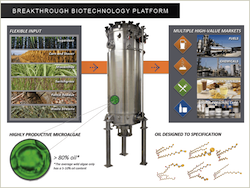 The fermentation tests were conducted in approximately 500,000-liter vessels, which are about four times the scale of the vessels in Solazyme's Peoria facility. Solazyme is initially targeting annual production of 20,000 metric tons of oil starting in early 2014 at the ADM facility, with targeted expansion to 100,000 metric tons.
Solazyme said in a press statement that the achievements in Clinton were comparable to the fermentation equipment being installed in the Solazyme Bunge Renewable Oils facility in Brazil. The facility is targeted to begin production before the end of 2013 and will have a nameplate capacity of 100,000 metric tons.
"Working with ADM's world class fermentation team to achieve commercial scale operations at the ADM facility shortly after announcing the partnership exhibits our ability to rapidly and successfully scale in large commercial fermentation facilities," said Peter Licari, CTO, Solazyme. "Solazyme is currently developing commercial facilities in the US, France and Brazil, and with these runs we have now achieved linear scale-up of over 70,000-fold from our labs."