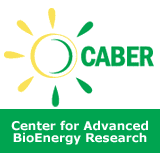 With the success of its online bioenergy classes, the Center for Advanced BioEnergy Research (CABER) in the College of Agricultural, Consumer and Environmental Sciences (ACES) at the University of Illinois (U of I), is offering the online class Bioenergy Systems (ACES 409) for the Spring 2013 semester. The class begins on January 15, 2013 and ends on May 7, 2013 meeting Tuesday evenings from 6:30 pm to 9:30 pm CST.
ACES 409 Bioenergy Systems is an online introductory survey course of a wide range of bioenergy issues from the life cycle of biofuels to feedstock production to end-product utilization. Lectures will be presented by the course instructors as well as several experts from industry and academic research. Presentations will be delivered via an online virtual environment an online tool that enables students to interact with presenters and other classmates.
"We're excited to offer this class in bioenergy online. We've been teaching it on campus for five years and have had students from around the world take the online version of the class. The diversity among students and countries provides rich opportunity for discussion of technology and policy in various countries," said Dr. Hans Blaschek, Director of CABER. "Technology is changing so quickly in the bioenergy arena. This class should be beneficial to people throughout the world who are interested in learning more about bioenergy technology and research initiatives at the U of I."
Students will learn about individual bioenergy issues as well as how each issue fits into the broader bioenergy context and the challenges that remain. This course was designed for students wanting to know more about the status of current bioenergy systems in the U.S. and the opportunities that lie ahead.
Click here to learn more and to register.