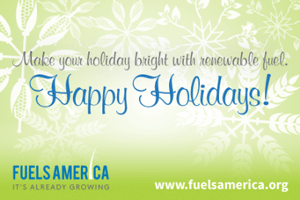 Because it's already growing you might want to consider taking a few seconds to send someone a Fuels America e-Card.

Hi there,
The holidays are upon us.
That means parties, gift giving, and finding that perfect card to send to your loved ones.
Send your friends and family a Fuels America holiday e-card to spread the joy and holiday spirit this season:
Whether young or old, everyone's life can be improved by renewable fuel, especially during the holidays. Just this past Thanksgiving — the busiest travel time of the year — ethanol helped American families reduce their gasoline usage by an average of $29.13.
That reduction in gasoline usage means more money to spend on gifts for your friends and your loved ones this season.
So don't just spread holiday cheer — spread the word about the benefits of renewable fuel at the same time. Send a Fuels America e-card now.
Happy Holidays,
Fuels America