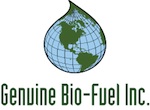 Genuine Bio-Fuel is expanding to the Caribbean region with the formation of a new subsidiary Caribbean Bio-Fuel (CBF). The company will be based in Puerto Rico and serve Caribbean and South American markets. The company will build a biodiesel plant in the region that will have the capacity to produce nearly 12 million gallons of biodiesel per year. The new 35,000 square foot facility is expected to open in March 2013. Raw materials and feedstocks will be sourced from Puerto Rico and the surrounding islands.
Jeff Longo, executive vice president for Genuine Bio-Fuel said, "This is an exciting time for Genuine Bio-Fuel. This expansion will allows us to be a global competitor in the alternative energy industry, but our mission will ultimately remain the same. With Caribbean Bio-Fuel we strive to build an environmentally responsible facility, create jobs, and help spur economic growth in this region."
The company will also develop other co-products unique to this region.