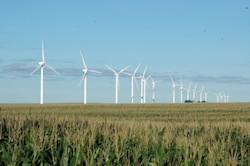 Here is a story about a new wind farm that is just a stone's throw away. The Franklin County Wind farm, a subsidiary of Alliant Energy Corporation, has begun operations in Franklin County, Iowa. Consisting of 60 wind turbines, the farm is capable of producing nearly 100 megawatts of wind energy – enough to power close to 25,000 homes.
"We are very happy to have the Franklin County Wind Farm producing electricity," said Patricia Kampling, chairman, president and CEO of Alliant Energy. "The construction team delivered this project on time and on budget with an exemplary safety record. We are also grateful to the landowners and the community for their strong support on this project."
Franklin County Wind LLC continues to seek a buyer for the energy produced by the wind farm, but in the meantime it will sell the power it generates into the MISO market.