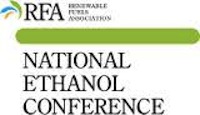 Speakers for the National Ethanol Conference (NEC): Driving Forward being held Feburary 5-7, 2013 in Las Vegas have been announced. The conference will kick off with the Chairman of the Renewable Fuels Association (RFA) Neill McKinstray, who is the president, Ethanol Group, The Andersons. The line-up will then feature the much anticipated State of the Industry Address from RFA President and CEO Bob Dinneen.
Featured speakers will also include:
Brooke Coleman, Executive Director of the Advanced Ethanol Council.
Rick Tolman, CEO of the National Corn Growers Association
Rob Vierhout, Secretary General, ePURE
Scott Turlow, President, Canadian Renewable Fuels Association
James Massie, Principal, The Alpine Group
Marty Durbin, Executive Vice President, Government Affairs, American Petroleum Institute
Shane Karr, Vice President, Federal Government Affairs, Alliance of Automobile Manufacturers
Louis Finkel, Executive Vice President, Government Affairs, Grocery Manufacturers Association
Linda DiVall, Founder, President and CEO, American Viewpoint
Bruce Heine, Director Government Affairs, Magellan Midstream Partners LP
Michael Pacheco, Ph.D., Associate Laboratory Director, NREL
Scott Zaremba, President, Zarco 66, Inc….and many more.
Click here to see the full line-up and to register. We'll see you there!