Propel Fuels has closed on the initial phase of its Series D round of funding with $11 million in equity capital from existing investors Nth Power, Craton Equity Partners, and @Ventures as well as a new investor, Gentry Venture Partners. In addition, the company has secured $10 million in debt financing from CapX Partners. With the additional funds, Propels plans to accelerate its build out of its network of alternative energy stations.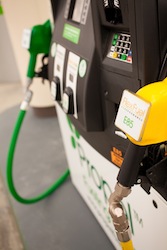 Operating on the west coast, Propel has stations that offer E85 and biodiesel blends along with conventional fuels. In addition, the stations help people with other facets of transportation including carbon offsets, tips on improving fuel economy, rideshare opportunities, services for bicyclists, and recycling.
"The continuing support of our existing investors, the new investment from Gentry, and the access to additional debt capital from CapX is a strong endorsement for our vision, our accomplishments, and team," said Matt Horton, CEO of Propel. "This new funding, combined with grant funding from the State of California, will enable us to accelerate the build out of our alternative fuel stations across state, offering consumers true choice and a better experience at the pump."
As part of the investment by Gentry, Thomas B. Raterman, a Partner, has joined Propel's Board of Directors. Raterman has more than 30 years of corporate finance, investment banking, and executive management with rapidly growing entrepreneurial companies.
Raterman added, "We're witnessing a revolution in transportation, whether it's innovative new enzymes to create clean fuels, or whole new drivetrains and power systems in the vehicles themselves. Propel is creating a position as a trusted source of the most advanced fuels on the market today – no matter what type of vehicle you drive. We're excited to help them succeed."