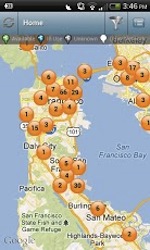 ChargePoint has launched a new free electric vehicle (EV) charging station mobile app for all iPhone and Android smart phones. The app features a redesigned look and features all EV charging stations installed in the U.S. The user can browse information about the stations including distance and the cost to charge.
"ChargePoint is the world's largest electric vehicle global charging network," said Pat Romano, president and CEO of ChargePoint. "One feature EV drivers have requested is the ability to navigate, access and charge at any electric vehicle charging station, not just those on the ChargePoint network. With more than ten thousand EV charging spots on the ChargePoint network and thousands more out of the network this is the easiest way to find any EV charging station anywhere in North America."
The EV charging station mobile app also gives drivers real-time charging station status, detailed station information including pricing and the ability to view your home charging station. EV drivers can make EV charging station reservations, payments and find location information as well.