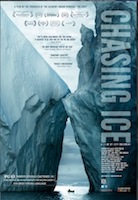 I spent the weekend in the Twin Cities attending several environmental events. The first event was a screening of the documentary Chasing Ice, produced by environmental photographer James Balog who founded Extreme Ice Survey. It is hard for me to put my emotions into words after watching this moving. It was simultaneously incredibly beautiful and yet horrific. Beautiful in that the imagery of the ice was stunning and horrific because the crew caught on film the melting of glaciers.
James Balog, along with several teams, installed 25 cameras in Greenland, Iceland, Alaska and Montana and over the course of three plus years, the cameras took photos every 20-30 minutes and as I write this, have taken thousands of photos of the glaciers. Every six months, the teams traveled in oftentimes heralding weather to check the cameras, take additional photos and video and switch out memory cards. The results was stunning time lapse photography – who knew that ice could be so beautiful.
Yet what might have been most amazing, was that his cameras and crew caught what is to believed the largest calving incident ever recorded on film. A portion of a glacier in Greenland broke off (nearly the size of Manhattan) over the course of 75 minutes. It was amazing to watch but then the reality of what you are witnessing takes hold  – watching the disappearance of the glaciers. While glaciers have calved for centuries, they typically stay about the same in size – one piece breaks off while more ice forms. Yet today, these glaciers are not being replenished, per say, they are vanishing.
One element of the film that could be most interesting, was that James Balog began as a climate skeptic and now believes that climate change is real, and a major part of it is caused by human actions. For those who already believe in climate change, or those who continue to be climate skeptics, this is a must see film. And for those climate skeptics who still deny that climate change is real after seeing this film, well then nothing will change your mind.  (I would like to thank the Will Steger Foundation for providing 840 free tickets to see Chasing Ice).