According to SunPower Systems, who has solar systems operating at 25 California Water Agencies, their power systems have exceeded expectations for overall performance. The company estimates that the systems have saved the state's public agencies a cumulative total of approximately $5.3 million over the past 12 months.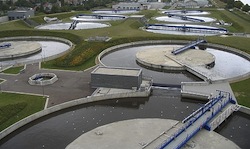 SunPower has designed and built nearly 25 megawatts of solar power systems at 43 water facility sites over the past decade. The company says on average, those systems are generating 102 percent of expected production.
"Water agencies and facilities typically have huge energy demand and a responsibility to rate payers to minimize operational costs," said Howard Wenger, SunPower president, regions. "SunPower delivers the most efficient and reliable solar technology on the market today, with guaranteed performance that ensures these facilities lock in positive financial returns. We are very pleased that our water agency and district customers are seeing returns above and beyond expectations, delivering added value to the public agencies and their ratepayers."
SunPower has two new water agency projects currently under construction in California: a 922-kilowatt system for Western Municipal Water District located in Riverside, California, and a 1.2 megawatt system for Oceanside, California. This system is estimated to provider between 25-30 percent of electricity for the facility and save more than $1.6 million in electricity costs over the next 20 years.
Both systems will use the SunPower T0 Tracker, a ground-mounted technology that rotates the solar panels to follow the sun during the day, that the company says increases energy capture by up to 25 percent over conventional fixed-tilt systems, while reducing land use requirements.