How many Americans realize that we're still on a fiscal cliff and that the danger has not been averted? Hopefully the majority of us realize this as Congress debates away during this year's lame duck session. Many issues are under the microscope, but one that many believe is a key priority in economic growth and policy discussions, including the local chamber of commerce CEOs, is further development of clean energy.
The Chambers for Innovation and Clean Energy (CICE) said it plans to be at the table when clean energy options are being discussed in Congress. Among other clean energy initiatives, the chamber CEOs are urging a renewal of the wind energy Production Tax Credit (PTC) that is currently the key incentive responsible for growing wind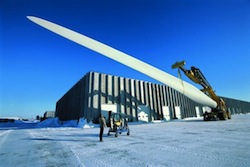 energy manufacturing and development in the U.S. Failing to renew the PTC would cause economic harm – layoffs in states throughout the country.
"Our largest wind turbine blade manufacturer in Arkansas, LM Wind Power, has already announced more than 200 layoffs as a result of uncertainty around the PTC," said Jay Chesshir, President and CEO of the Little Rock Regional Chamber of Commerce. "Wind energy has been a huge economic development success for Little Rock, attracting jobs and investment to our community.  Continuing to diversify our energy portfolio is smart business. Allowing the tax credit for wind energy to expire now would only take us backwards and hurt our local and national economy."
Local chamber CEOs have emphasized homegrown clean energy is helping to diversify local economies and create business growth nationwide. In 44 states across the country, nearly 500 facilities now manufacture for the wind industry, supporting well-paying jobs in red and blue states. The solar industry—including manufacturers, installers, and other service providers—supports more than 100,000 American jobs.
There is proof that clean energy is an economic driver. For example, with leadership from the Merrimack Valley Chamber of Commerce, businesses in northeastern Massachusetts will save upwards of $30 million over the next 30 years. In Cleveland, Ohio, businesses saved a collective $1.5 million in 2011 alone by participating in the local chamber's leading energy efficiency program.
CICE said community businesses across the nation are ready to lead the world in clean energy. The missing piece  – a clear market signal from Congress.