Hydrogenics Corporation has announced that a Hydrogenics electrolysis-based hydrogen fueling station has been officially opened in Turkey in the presence of Kadir Tobass, Mayor of Istanbul, as well as interested members of the public. The fueling station is located at Golden Horn, the historic inlet of the Bosphorus straight, and can fuel up to 65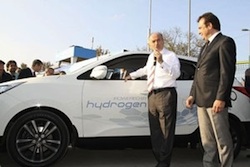 kilograms per day of hydrogen at 350 bar. The station is for both land and sea transportation applications where Hydrogenics' 8kW fuel cells can be used.
"We are very pleased to see the high level of interest shown by the Turkish government in hydrogen technology as a future fuel," said Daryl Wilson, Hydrogenics President and CEO. "This first hydrogen fueling station in Turkey demonstrates Hydrogenics' ability to respond to the increasing demand for hydrogen fueling stations across Europe. Our ability to deliver a complete offering addressing quality, safety and economic requirements further validates Hydrogenics as the company with the expertise to manufacture and install hydrogen fueling stations wherever needed."
The station was financed by the International Centre for Hydrogen Energy Technologies (ICHET), a project of the United Nations Industrial Development Organization (UNIDO). ICHET was founded in Istanbul in 2004 and is supported by the Turkish Ministry of Energy and Natural Resources. ICHET seeks to initiate projects in the developing world that establish or enhance hydrogen production.