ICM has completed a 1,000 hour run of its Generation 1.5 Integrated Fiber to Cellulosic Ethanol Technology at its pilot plant in St. Joseph, Missouri. The technology allows existing grain ethanol plants to produce cellulosic ethanol and the company says the successful test proves it can be done with substantial operating and capital expense cost savings over the traditional approach of cellulosic ethanol production.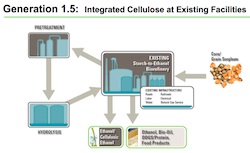 The completion of the 1,000 hours of continuous production was achieved through the sequential completion of twenty-four 15,000 gallon pilot fermenters and five 585,000 gallon commercial scale reactors. The run also demonstrated that the dried distillers grains (DDGs) co-product of ICM's integrated fiber cellulosic process have a significant concentration of protein-fat amounts.
The continuous run demonstrated several technological advantages: a 7-10 percent increase in ethanol yield per bushel with an approximate 3.1 gallons per bushel equivalent; greater than 90 percent conversion of C6 sugars and greater than 80 percent conversion of C5 sugars; fermentation yields of greater than 90 percent; co-product market diversification capabilities by delivering substantially higher oil recovery rates and protein concentration; reduced energy usage; ability to co-distill utilizing existing distillation capabilities; and the same quantity of ethanol can be produced with 10 percent less bushels.
"We are grateful for the tremendous efforts that our ICM employees performed to make the 1,000-hour run a remarkable success. We could not have achieved this major milestone without the collaboration of various personnel functions including outstanding efforts made by our research associates, scientists, pilot plant personnel, product development, construction management, engineering, automation, supply chain, accounting and many others," said ICM Principal Scientist Jeremy Javers, Ph.D.
Corn fiber yields greater than 100 gallons per ton were performed up to the 585,000 gallon fermentation scale with all inputs – enzymes, chemicals, organisms – utilized at an economically-feasible range. Other feedstocks that have been tested include corn stover, corn fiber, wheat fiber, barley fiber, switchgrass, energy sorghum, and bagasse. The successful continuous run now enables ICM to qualify for federal loan guarantees.