Plug Power has been selected for a $2.5 million award from the U.S. Department of Energy (DOE). The monies will be used to modify electric tow tractor ground equipment to function with GenDrive hydrogen fuel cells in airport applications. As part of a three-year program, 15 tow tractors will be deployed at FedEx Express airport hub locations in Memphis, Tennessee and Oakland, California. FedEx will test the hydrogen fuel cell technology to study productively, efficiency and the environmental benefits of using hydrogen. FedEx Freight has used GenDrive fuel cells in its Springfield, Missouri facility since 2009.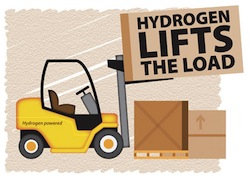 "FedEx continually works toward goals to increase vehicle efficiencies and reduce emissions in big and small ways that are sustainable and long-lasting," said Russell Musgrove, Managing Director with FedEx Express. "Plug Power's plan to develop and deploy fuel cell-powered baggage tow tractors aligns with our commitment to continually research and test technologies that will help us connect the world in responsible and resourceful ways."
Studies are being conducted that will determine if hydrogen fuel cells can serve as replacements for lead-acid batteries. Early indications, say Plug Power, that customers using hydrogen fuel cells have experienced significant improvements in productivity and operational efficiencies in running their large distribution centers and manufacturing operations. The next step is to trial hydrogen fuel cells in other business aspects including use in fleet vehicles and refrigerated trailer operations.
"Ground support equipment is a natural fit for our GenDrive product, and this project allows us to take our prior expertise in the area and further develop it for future commercialization," said Andy Marsh, CEO at Plug Power. "FedEx has been a valuable collaborator for Plug Power in the past and we look forward to continuing our positive work with them as the company evaluates additional markets."