DuPont has officially broken ground on its $200 million cellulosic biorefinery. When complete in mid-2014, it is expected to be one of the first and largest commercial-scale cellulosic biorefineries in the world. Once fully operational, the facility will produce 30 million gallons of cellulosic ethanol per year from corn stover residues.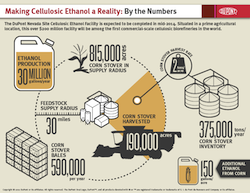 The company is also adapting its technology for use with other feedstocks such as switchgrass. Using data derived from its pilot facility in Tennessee has allowed DuPont to further minimize process and maximize technology. Once refined, its fully integrated end-to-end production system will be available to license globally.
The cellulosic biorefinery is situated adjacent to Lincolnway Energy in Nevada, Iowa. Joining James C. Collins, president of DuPont Industrial Biosciences, were representatives of the ethanol plant as well as Iowa Governor Terry Branstad.
"During my previous terms as governor, we were excited to bring ethanol production to the state. After many hard years of work by Iowa growers and technology companies like DuPont, Iowa now leads the country in renewable fuel production," said Governor Branstad. This site in Nevada is the next critical step in our cellulosic ethanol journey. We look forward to bringing these advanced technologies online, creating local jobs and helping to deliver clean, sustainable energy."
DuPont will contract with more than 500 local farmers to gather, store and deliver over 375,000 dry tons of stover per year into the Nevada facility. In addition to the estimated 60 full-time plant operations jobs, there will be over 150 individuals involved in the collection, stacking, transportation and storage of the stover feedstock seasonally during each harvest. The stover will be collected from an approximate 30 mile radius around the new facility and harvested off of 190,000 acres.
"Many of us who have participated in the stover harvest program with DuPont are already seeing benefits of this alternative residue management strategy including positive effects on grain yields the following year on our fields," said Jim Hill, a corn grower whose stover will be used to supply DuPont's biorefinery. "We're excited to work with DuPont to supply stover to this new biorefinery, partner to discover new markets for our products and co-products and develop new crop production techniques based on the opportunity to manage residues thru partial stover removal."
Collins noted during his speech that almost a decade ago DuPont set out to develop innovative technology that would result in low capital and low-cost cellulosic ethanol production. He said the company recognized that science-powered innovation was the catalyst to make cellulosic ethanol a commercial reality and to help reduce global dependence on fossil fuels.
"By leveraging DuPont Pioneer corn production expertise and designing an integrated technology platform, we've built an affordable and sustainable entry point into this new industry. We're committed to continued productivity gains to drive costs down even further for the coming generations of plants, ones based on corn stover as well as other feedstocks."
DuPont didn't get to this point alone, concluded Collins. "We've built an incredible partnership with the state of Iowa, Iowa State University, entrepreneurial growers and a whole host of partners around the country who share our vision of making renewable fuels a commercial reality."