Mayor Rahm Emanuel and Smith Electric Vehicles have announced that Smith will open an electric vehicle manufacturing facility in Chicago, creating hundreds of direct and indirect jobs. The company's decision to locate a facility in the windy city was influenced by the Mayor's voucher system created to accelerate the conversion from diesel to zero-emission, all-electric commercial fleet vehicles. In addition, the city, with a growing battery and electric vehicle industry, also offers some development incentive for Smith. Chicago will be Smith's third location in the United States, joining their headquarters in Kansas City, Mo., and a manufacturing facility in New York City.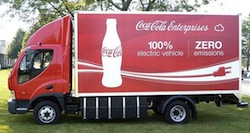 "I'm proud to welcome another growing company with a great mission to Chicago. Soon hundreds of Chicagoans will be able to put their skills to use providing businesses worldwide with high-quality, zero-emission, American-made vehicles," said Mayor Emanuel. "Smith Electric Vehicles is an innovative company in a forward-looking, essential industry that is a central part of Chicago's economic future."
Smith is  a leading manufacturer of all-electric commercial vehicles, which are considered zero-emission and less expensive to own and operate when compared with traditional diesel trucks. The company produces trucks for multiple industries, including food & beverage, utility, telecommunications, retail, grocery, parcel and postal delivery, school transportation, military, and government. Smith's customers include many of the world's largest fleet operators, including PepsiCo's Frito-Lay division, FedEx, Staples, TNT, Sainsbury's, Coca-Cola, DHL, and the U.S. Military.
During the press event, the Chicago Department of Transportation announced a $15 million incentive program to encourage companies to convert their fleets to electric vehicles. Believed to be the first of its kind, the plan rewards fleets on an increasing scale for converting to EVs. The incentives will be in the form of vouchers to assist with conversion costs. Chicago is also considering additional incentives such as preferential loading jobs and decreased registration costs.
"A mass urban deployment of commercial electric vehicles is an important next step in catalyzing mainstream adoption," noted Smith CEO Bryan Hansel. "Chicago's location, commitment to adoption in municipal fleets, concentration of commercial vehicles, talented workforce and importance to the global business community make it a perfect choice to grow our company and this industry.  The leadership being shown with the mayor's CDOT voucher program is a prime example of how Chicago is creating the template for a new energy city."