ImagineSolar is featuring inverter technology for photovoltaic systems developed by Ideal Power Converters (IPC), in their next solar training workshop in Austin, Texas on December 15 and 16, 2012. According to ImagineSolar, IPC's patented power converter technology improves both energy and cost efficiencies for solar inverters, grid storage, and electric vehicle charging infrastructure.
IPC's initial product, a 94lb 30kW 480VAC PV inverter, is one of the most efficient PV inverters with 96.5 percent CEC-weighted efficiency according to the company. It can lower inverter shipping and installation costs by 90 percent compared to conventional transformer based inverters.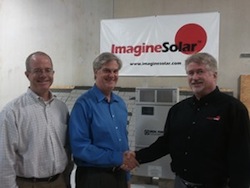 "We are excited to work with the outstanding team at ImagineSolar," said Paul Bundschuh, CEO for IPC. "ImagineSolar will conduct a lab using our inverter technology and will provide insight into the advantages of bi-polar system design."
ImagineSolar is a company that specializes in training people about solar energy. As part of this initiative, the company establishes training partnerships with leading manufacturers, distributors, installation companies, training and accreditation organizations who are developing the latest, advanced, technologies for the solar and smart grid industries.
Michael Kuhn, ImagineSolar founder and CEO, added, "IPC is transforming the PV, grid-storage, and electric vehicle fast charging markets with their game-changing Universal Power Converter Platform(TM). This is a great match with our focus on system solutions for the solar and smart grid industries."