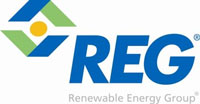 Renewable Energy Group (REG) today announced the purchase of a 15 million gallon-per-year biodiesel production plant near Atlanta, Georgia.

The multi-feedstock facility, which will operate as REG Atlanta, LLC, is located in Ellenwood, Georgia, 11 miles southeast of Atlanta with easy access to major Southeast transportation routes. REG acquired the former BullDog Biodiesel operation for cash and in-kind consideration of approximately $2.6 million. No stock was issued related to the deal.
"Renewable Energy Group is focused on strategically expanding our footprint of biodiesel production facilities," said REG President and CEO, Daniel J. Oh. "Once repaired, upgraded and restarted the REG Atlanta facility will offer us additional long-term capacity to meet high-demand diesel markets across the Southeast."
The company has not yet set a production date for the re-start of the former BullDog Biodiesel facility, which has run intermittently since January 2008.
REG tolled the facility from April 2011 through April 2012 to support REG's biodiesel sales in the Southeast. BullDog ceased operations in April 2012 due to a combination of poor market conditions and upgrades needed to make the facility more efficient.
"Our team has demonstrated a successful model for integrating new technologies into our network and upgrading facilities to utilize lower cost raw materials," said REG Vice President, Manufacturing, Brad Albin. This refinery was designed to produce biodiesel from a variety of feedstocks, including used cooking oil.
Since 2008, Renewable Energy Group has acquired ten biodiesel-related firms or production facilities. Last month, REG acquired a 15 million gallon-per-year biodiesel facility in New Boston, Texas slated to begin production in the first quarter of 2013.