A new report, "Biofuel Enzymes Market – Global Industry Size, Market Share, Trends, Analysis and Forecast, 2012 – 2018," published by Transparency Market Research, concluded that global biofuel enzymes demand was worth USD 1,021,9 million in 2011 and is expected to reach USD 1,653.1 million in 2018. This would be a CAGR growth rate of 7.6 percent during this timeframe.
Today, North America represents the largest market; however, Asia Pacific is growing steadily. The European Union is making progress and in China is an attractive market for biofuel enzymes due to its low cost structure.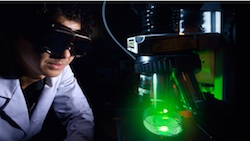 According to the report, the global biofuel enzyme market is primarily driven by growth in end application markets, for example growing consumption of biodiesel and bio-based ethanol. This growth, in turn, has been driven by an increase in awareness regarding biofuel sustainability and changing economics of fossil fuels, when combined have encouraged governments to pass biofuel legislation and consequently, grow  biofuels markets, and finally grow the biofuel enzyme market.
The biofuel enzyme market includes amylases, industrial lipases and others with amylase representing the fastest growing segment of the global biofuel enzymes market due to its capability to withstand a wide range of temperatures and pH levels. The market for amylases enzymes is growing at a CAGR of 8.0 percent from 2013 to 2018 and it is further subdivided into two types:  cellulase and industrial proteases enzymes. The market for industrial proteases is growing rapidly at a CAGR of 8.7 percent from 2013 to 2018.
The research estimated and analyzed the demand and performance of biofuel enzymes, for various enzyme segments, in a global scenario. It also provides an in-depth analysis of biofuel enzymes manufacturers, product segments and sales and trend analysis by segments and demand by geography.