GE and Clean Energy Fuels have announced a partnership to expand the infrastructure for natural gas transportation in the U.S. The idea for the project is to develop a natural gas highway or network that will enable trucks to operate on Liquefied Natural (LNG) from coast to coast. In a press statement, the companies say truck fleets can reduce fuel costs by more than 25 percent and lower tailpipe emissions when using LNG.
Clean Energy Fuels will initially purchase two ecomagination qualified MicroLNG plants from GE Oil & Gas. The modular units rapidly liquefy natural gas while minimizing a site's physical footprint and will support fueling stations along major transportation corridors across the U.S. To help support the costs of the infrastructure, GE Energy Financial Services is providing up to $200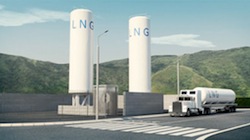 million in financing.
"GE is proud to be partnering with Clean Energy Fuels to develop natural gas infrastructure in the U.S. Clean Energy is an industry leader in pioneering a new way for America to fuel its vehicles and to further gain energy independence," said GE Chairman and CEO Jeff Immelt. "With an abundance of cleaner, more affordable natural gas here in the U.S., this is an important opportunity for GE to join Clean Energy in changing the way America drives. It's also a critical step in developing a natural gas-for-transportation fuel model that can be easily exported to other countries interested in exactly these kinds of breakthrough projects."
Clean Energy expects to complete approximately 70 LNG stations by the end of 2012, with more planned for next year. Clean Energy's stations are targeted at long-haul, heavy-duty trucks. In 2013, four major manufacturers will introduce the Cummins Westport 12-liter LNG engine, which is the optimum size for long-haul Class 8 trucks.
Clean Energy plans to use a standardized design of the new GE MicroLNG plants to build additional MicroLNG plants. These first two MicroLNG plants will produce up to 250,000 gallons per day. The plant will be designed to be expanded up to 1 million gallons per day as adoption and demand increases  plants are targeted to begin operation in 2015. The two companies are currently assessing the best locations for these first two LNG plants.
"The agreement announced today with GE is one of the most significant milestones in Clean Energy's history," said Andrew J. Littlefair, president and CEO of Clean Energy Fuels. "As the long-haul trucking industry begins its transition to natural gas, it will be critical to have a reliable supply of LNG. No other company is as uniquely qualified as GE to help address this need due to its vast experience in energy, technology innovations and financing capabilities. GE partnering with Clean Energy on these two facilities will not only help ensure an adequate LNG supply for our stations, but it is another confirmation that the transition to natural gas as a transportation fuel is gaining momentum."