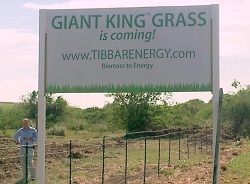 Giant King(TM) Grass is now growing in the Virgin Islands and could help the U.S. territory meet its goal of 22 percent of its energy from renewable sources by 2025. California-based Viaspace, Inc. sent the first shipment to St. Croix, and Tibbar Energy USVI LLC has planted it with hopes that it will become a key part of that company's 6 MW biomass energy project on the 1,000-acre Giant King Grass plantation.
The Giant King Grass will be used as a feedstock for anaerobic digestion, generating biogas which will be used to produce electricity. No grass is burned in this process. Anaerobic digestion is a biological process.
The benefits of this project to the island are not only in the energy production. Additional benefits include:
— The branding of St. Croix as a renewable energy producer
— Helping to meet the Virgin Islands renewable energy goal of 22% by 2025
— Provides organic fertilizer for local farmers, agricultural scholarships and new agricultural activity
— Developing co-operative growing agreements with local famers
— Creates high quality permanent jobs.
— Converts 800 acres of underutilized land to agricultural use
— Invests millions of dollars into the island"
This is part of Tibbar's 20-year project, expected to be fully online early in 2014.
Besides growing Giant King Grass, Viaspace is also growing its social media presence. You can also follow the company on its Facebook page, www.facebook.com/viaspaceinc, and through Twitter @viaspace.