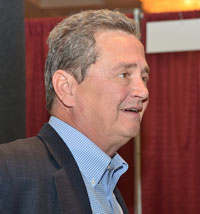 The ethanol industry is anxiously awaiting the pending decision by the Environmental Protection Agency on a requested waiver of the Renewable Fuel Standard.
Growth Energy CEO Tom Buis remains optimistic that the RFS will be upheld. "We're pretty confident that the proponents of the RFS waiver did not prove the point that the economic harm was attributable to the RFS," said Buis at the National Association of Farm Broadcasting annual meeting last week. "In fact, we contend that the economic harm to all to of America if you mess with the RFS would be greater than if you left it alone. It's greater for farmers and farm income, it's greater for consumers in higher gas prices, it costs you jobs – last time I looked everybody wants more jobs, not less. Anyone with any common sense would say the economic harm was caused by Mother Nature, not the ethanol industry."
Buis says he is glad the election is over and Congress can get back to work on a farm bill and extending important tax incentives like the cellulosic tax credit and alternative minimum fuel tax credit.
Buis also discusses cellulosic ethanol production, E15, American Ethanol and NASCAR in this interview: Tom Buis, Growth Energy