During the third quarter of 2012, more than 10,800 jobs were announced in the clean energy sector and related industries according to the latest analysis by Environmental Entrepreneurs (E2). The top 10 states for clean jobs, beginning with the number one state were: California, New York, Oregon, Washington, New Mexico, Texas, North Carolina, Minnesota, Illinois and Nevada.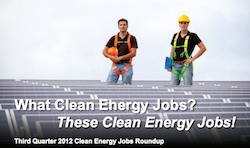 Despite an improvement in the economy, the job growth was actually less than in the first and second quarters of 2012 – there were 46,000 clean energy jobs announced between January – March 2012.
The analysis, "What Clean Energy Jobs? These Clean Energy Jobs!" concludes that the slowdown was caused in part by political and policy uncertainty, including the pending sunset of the production tax credit (PTC) for wind energy. The lack of action on this tax credit, among several others has also caused a loss of jobs within the clean energy sector.
"These numbers show that policy matters," said Judith Albert, executive director of Environmental Entrepreneurs. "With clean energy job announcements slowing down, it becomes even more important that Congress and the administration take the right steps to ensure that we don't lose any more momentum in the clean energy sector that's helping both our economy and our environment."
According to the E2 report:
Power generation companies announced the most clean energy jobs in the July-September quarter. Solar, wind and biogas companies announced 40 projects that together are anticipated to create more than 6,000 jobs.
Manufacturing companies making everything from electric vehicles to solar panels announced 14 projects in the quarter that would created more than 1,600 jobs, albeit many temporary.
In the wind industry, manufacturing job announcements fell to zero in the third quarter, compared to eight announcements in Q1 and two in Q2.
Three states saw significant jumps in announcement for clean energy and related jobs between the second and third quarters: North Carolina (from No. 26 to No. 7), Washington (from No. 27 to No. 4), and Texas (from No. 15 to No. 6).
In addition to the report, E2 also unveiled its new tracking tool that aids individuals searching for clean energy jobs.