For individuals looking to learn more about the renewable energy industry at a management level, the University of Colorado Boulder, in partnership with the Renewable and Sustainable Energy Institute (RASEI), are offering a graduate-level renewable energy certificate. The classes can be taken onsite or online and are geared toward those not seeking a full degree but rather to learn about the latest in energy technology and policy.
"Our renewable energy certificate program is an extension of CU-Boulder's successful graduate energy certificate that we've been offering for several years," said Paul Komor, Ph.D., who directs the program and teaches courses in energy technology and policy.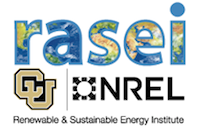 Komor shared in the Nobel Peace Prize awarded to Al Gore and the Intergovernmental Panel on Climate Change (IPCC).
Those completing the three three-course program will earn nine graduate level credits along with the renewable energy certificate. Students will be taught by CU-Boulder faculty who have many years of experience in the energy industry. It takes one to two years to complete the professional renewable energy certificate, and CU-Boulder is currently accepting registrations for the 2013 term.
Classes include: RSEI 5000 Energy Science and Technology, taught by Keith Stockton, Ph.D.; RSEI 5001 Renewable Energy Policy, taught by Paul Komor, Ph.D.; and RSEI 5002 The Business of Sustainable Energy, taught by Steve Lawrence, Ph.D. Each course is a full semester and there is also a summer online library course with prerecorded lectures.
Brett Landin, a current student and a principal engineer at Ball Aerospace in Boulder, Colorado, said of the program, "What sold me on the program is the mix of technology, business, and policy courses. This mix of courses provides an in-depth introduction to the three fields that are key to understanding the renewable energy landscape. I really appreciate the ability to take the class as a distance student to accommodate my work schedule, while being able to stop by office hours and work with other students in the class."