The first lease for commercial wind energy development in federal waters has been given to an offshore wind energy project approximately 11 nautical miles off the coast of Delaware. This is the first lease awarded under the Department of Interior's "Smart from the Start" program to ensure environmentally responsible offshore wind energy development along the Atlantic Outer Continental Shelf.
"Delaware has remarkable offshore wind potential, and harnessing this clean, domestic energy resource will create jobs, increase our energy security and strengthen our nation's economic competitiveness," said Ken Salazar, Secretary of the Interior. "The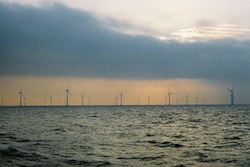 Administration has implemented a true all of the above approach to American energy, with renewable energy from sources like wind and solar doubling since the President took office, while at the same time domestic oil and gas production has increased each year, with domestic oil production currently higher than any time in almost a decade and domestic natural gas production at its highest level ever."
The lease grants NRG Bluewater Wind Delaware LLC the exclusive right to submit one or more plans to Bureau of Ocean Energy Management (BOEM) to conduct activities in support of wind energy development in the lease area. The company may submit a Site Assessment Plan (SAP) with a proposal to conduct site assessment activities, such as the installation of a meteorological tower or meteorological buoy, and/or submit a Construction and Operations Plan (COP) to propose construction of the actual wind facility and cabling to shore.
"This lease is the result of many months of hard work and collaboration among BOEM, our Federal partners, the Delaware Renewable Energy Task Force, and other stakeholders," said BOEM Director Tommy P. Beaudreau. "I congratulate NRG Bluewater Wind and we look forward to their progress in standing up offshore wind energy generation under this lease."
In its original project proposal, NRG Bluewater proposed a 450-megawatt project offshore Delaware, with estimates that the project could generate enough power to supply electricity for over 100,000 homes.  The lease area, composed of 11 full OCS blocks and 16 partial blocks, has been located to avoid interfering with current coastline activities including major shipping lanes into and out of Delaware Bay, a proposed vessel anchorage ground and a munitions disposal area.