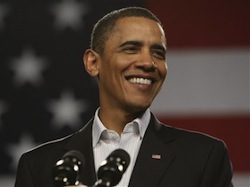 President Barack Obama has been elected to a second term to lead the United States. While not clairvoyant,  I suspect the defining turn in support for Obama was the convergence of hurricane Sandy and Mayor Michael Bloomberg throwing his support behind Obama with the statement that he is the climate change President. If he is in fact the president for climate change, this should mean positive things for renewable energy. But for this to happen, all of our national and state leaders will need to be climate change leaders.
On the heels of the President Obama's winning speech, many in the renewable energy industry, such as the National Corn Growers Association, lauded his win and called for the continuation of the path toward change that would lead to energy independence.
"The ethanol industry appreciates the support of President Obama and his administration over the last four years and we look forward to furthering our work with them, continuing to produce a cleaner burning, home-grown renewable fuel," said Tom Buis, CEO for Growth Energy. He added that his organization is looking forward to working with the president, his administration and Congress in a bipartisan manner to help expand access for biofuels.
POET's CEO Jeff Lautt said in a statement that his company felt that the role of renewable energy was evident throughout the election and he is optimistic for the future of the biofuels industry.  "As President Obama noted this fall, 'Biofuels are an important part of reducing America's dependence on foreign oil and creating jobs here at home.' I look forward to continued support for the Renewable Fuel Standard to ensure that more and more drivers have access to clean fuel produced here in the United States," he added.
It's going to take more than industry associations and alternative energy companies to work for success. It will also take consumer organizations rising up from local communities to spur change and the first step in this is better energy and climate education for all Americans (yes, our country is full of energy and environmental illiterate citizens). There's a lot to do. Let's get back to work.