Here is a new twist on an old idea: rather than simply recycling used cooking oil into biodiesel, a new initiative will locally grow canola, press the seeds into oil, deliver to local restaurants, pick up the used oil, and then repurpose it into biodiesel. The pilot project, known as Field to Fryer to Fuel (F3) received a $130,000 grant from the Biofuels Center of North Carolina from AdvantageWest to help the state develop a clean energy industry.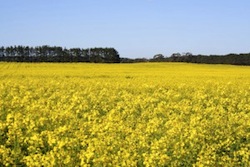 The project consists of three core activities: feedstock testing and analysis to assess the economic viability of a large-scale biodiesel and renewable biochemicals production facility in the region; demonstration the F3 business model; and the completion of a biofuels end-user market survey of large consumers of diesel fuel for transportation and heating oil.
"Our objective with this collaboration is to develop and expand Western North Carolina's hub of clean energy industries," said Matt Raker, vice president of AdvantageWest's green-tech program, AdvantageGreen. "A cluster analysis we published with Land-of-Sky Regional Council and other business and community members of the EvolveEnergy Partnership identified biofuels as an area of great potential for our region. We expect this project to measurably advance biofuel production and commercialization."
Field to Fryer to Field is underway with nearly 50 acres of canola seed already planted on the Biltmore Estate. The crop will be harvested in the spring of 2013 and then the seeds will be pressed into food-grade oil in a mobile unit supplied by Appalachian State University and then processed and refined Blue Ridge Biofuels' facility.
The resulting 7,000 gallons of food-grade oil will be provided to restaurants for use in cooking during the summer of 2013. The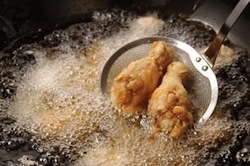 post-cooking "waste oil" will then be returned to Blue Ridge Biofuels for the production of around 5,000 gallons of biodiesel that will be sold to local consumers to operate their biodiesel ready vehicles.
Project partners include: Asheville-based Algaenan Energy Corporation (AEC), Blue Ridge Biofuels, Land-of-Sky Regional Council, and Old Dominion University in Norfolk, Va., which is providing laboratory services for the pilot. Other partners contributing expertise or other resources include Appalachian State University, Biltmore, Blue Ridge Food Ventures, and the N.C. State Mountain Horticultural Crops Research and Extension Center.
If the project proves a success, the F3 team hopes to attract additional investors for a larger scale operation that would produce nearly 300,000 gallons of biodiesel per year.