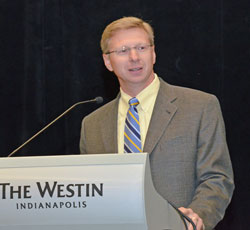 At last week's American Society of Farm Managers and Rural Appraisers (ASFMRA) Annual Meeting and AgroNomics conference in Indianapolis, the Economics Director for DuPont Pioneer gave an overview on the outlook for global agriculture and part of that discussion included a look at ethanol and what might happen if the Environmental Protection Agency decides to waive the Renewable Fuel Standard (RFS).
"We'll find out on November 14," Steve Elmore told the conference. "What they EPA says in that waiver and what it is going forward is going to make a big difference on how the markets view it and everything else…that will be a big guiding factor in the markets and in acres for 2013."
However, Elmore says the RFS "doesn't matter as much as people think." What matters more is the inclusion rates for ethanol in fuel. "We're producing more than the 10% inclusion rate right now," he said. "We need to worry about the inclusion rates and agriculture will have to work with the auto industry and Big Oil to make it happen."
Elmore says Brazil is coming back on line with its sugar crop which will impact the export market for U.S. ethanol which has been up in recent years.
Listen to Elmore's comments here: Ethanol Comments from Steve Elmore