Sapphire Energy and Institute for Systems Biology (ISB), have formed a strategic partnership to further the development of algae biofuels. The two companies will focus on applying systems biology solutions to algae with the goal of significantly increasing oil yield and improving resistance to crop predators and environmental factors.
Nitin Baliga, director of Integrative Biology at ISB, said of the partnership, "Sapphire is dealing with one of the most complicated problems known to humans: how to make fuel from a renewable resource. Together, we have complementary expertise that will allow us to understand, reverse engineer and rationally alter the gene networks for fuel production in algae."
According to Alex Aravanis, Sapphire Energy's chief science officer, said that the company has developed "the premier biotechnology platform" for producing and harvesting algae.  "By working with ISB to apply their systems biology approach, we're able to more rapidly identify genes and regulatory pathways that can increase yield and move us toward our goal of making Green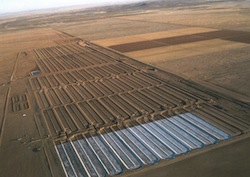 Crude a market viable, crude oil alternative."
The companies hope to reverse engineer the gene networks in algae and create strategies that will significantly improve the yield of green oil and crop protection. They also hope to significantly reduce the time to market.
Most recently, Sapphire began operating the first phase of its 300-acre commercial demonstration Green Crude Farm, also known as an Integrated Algal Bio-Refinery, in Columbus, New Mexico, in partnership with the US Department of Energy. Once in full production, The Green Crude Farm is expected to produce approximately 100 barrels of Green Crude per day, and be completed the end of 2014.