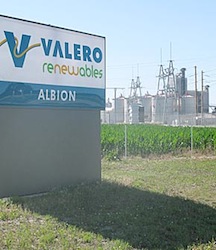 Valero Corporation has idled its ethanol plants in Linden, Indiana and Albion, Nebraska due to low margins. In addition, three of its other plants are operating at reduced capacity. Back in June, the ethanol plant in Albion was idled due to the high cost of corn, restarted the plant in mid-September after corn prices fell and now has idled the plant again since margins did not improve.
According to an article in the Lincoln Star Journal, additional issues that may be affecting ethanol profit margins is the falling demand and cost for gasoline. In the past month, the nationwide average drop in a gallon of gasoline is 26 cents per gallon.
According to the most recent Energy Department data, ethanol production has fallen 17 percent this year but despite the reduction, inventories remain higher today than this time last year.
Valero also announced during an earning calls that its ethanol business segment lost $73 million in the third quarter compared to a profit of $107 million during the same timeframe in 2011.