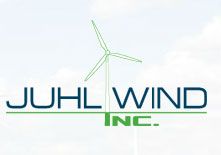 The Obama Campaign "Energy Tour" will be blowing into Woodstock, Minnesota today for a press conference at the headquarters of Juhl Wind, Inc.
Former Minnesota state representative Matthew Entenza will join company representatives to discuss the importance of the extension of the Renewable Energy Federal Production Tax Credit (PTC) and President Obama's support of the clean energy sector.
"In my over 25 years in the energy business, I have never seen a more balanced approach to our nation's energy strategy than the Obama administration's," said John Mitola, President of Juhl Wind. "We are very pleased to welcome Mr. Entenza to the Juhl Wind headquarters to further underscore the need for continued support of Renewable Energy, a critical component of our domestic renewable energy policy and a creator of new domestic job opportunities. We are proud of President Obama's strong ongoing support of the Renewable Energy industry and the need to continue to invest in our clean energy future. For anyone to solely attack the Renewable Energy PTC as a subsidy, they are simply ignoring the hundreds of billions of dollars in subsidies that have been provided to the nuclear, coal, gas and oil industries for decades and continue to this today – and, seemingly are never questioned."
Mitola referenced the most recent American Wind Energy Association report that says 2012 has been a record year for the development of wind power within the United States, surpassing 50,000 megawatts of electrical power generation capacity, with a total of 4,728 megawatts added this year alone and another 8,430 megawatts in active development throughout 29 states and Puerto Rico.