Biodiesel production in Iowa remained strong during the 3rd quarter according to the Iowa Renewable Fuels Association (IRFA). Figures released by the Iowa Department of Revenue show that 10 Iowa biodiesel plants claimed tax credits on more than 44.2 million gallons of biodiesel produced from July 2012 through September 2012. Several of the biodiesel plants have reached the tax credit program cap and as a result, the total production numbers were higher than what was submitted for credits.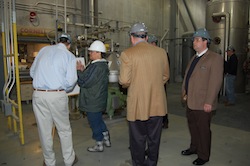 In 2011, the Iowa Legislature enacted a short-term, modest biodiesel production tax credit to help Iowa's biodiesel community compete against states that provide large biodiesel incentives. The Iowa program went into effect on January 1, 2012.
As the 4th quarter is in full swing, the federal biodiesel mandate has almost been met causing a slow-down in the industry. Through the end of September, biodiesel sales in the U.S. totaled 843 million gallons, just 157 million gallons shy of the federal mandate for 2012 that set total use at around 1.1 billion gallons. This number was increased for the 2013 mandate to 1.28 billion gallons per year.
"While 4th quarter demand appears to be down somewhat, Iowa produced more than 150 million gallons of biodiesel during the first three quarters of 2012 and is on target to break the biodiesel production record of 169 million gallons set in 2011," said IRFA Executive Director Monte Shaw. "That is great news for Iowa jobs and farm income. It is also good news for Iowa livestock producers because biodiesel production increases the value of their animals while reducing their feed costs."