Dozens of investors totaling more than $800 billion in assets have called for an immediate extension of the Production Tax Credit (PTC) for renewable energy, specifically wind power. In a letter delivered to Congressional leaders, investors noted that this critical tax credit creates broad economic benefits, both for wind power producers and their suppliers across the nation. Several of these investors met with Congressional staff to discuss their support for the credit.
The PTC provides a tax credit of 2.2 cents for each kilowatt-hour of renewable power generated. Designed to spur investment, the credit has helped the wind energy industry develop a large domestic network of supplies. According to the American Wind Energy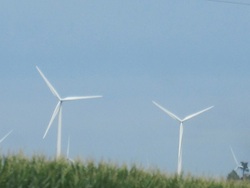 Association, the PTC has spurred $20 billion in private investment and the creation of 75,000 jobs. Investors wrote to encourage. The PTC expires at the end of 2012.
"The Production Tax Credit is vital to fostering a vibrant renewable power sector, which will improve our economic competitiveness while also reducing our reliance on fossil fuels," said Oregon State Treasurer Ted Wheeler, who oversees the management of $72.5 billion of state funds. "Renewable energy generation opportunities beckon from border-to-border in Oregon, and they promise to produce not only clean and sustainable power but also crucial employment and investments in key infrastructure."
Oregon wind farms now generate enough energy to power 700,000 homes, and the state is the home to the North American headquarters of wind power companies Vestas and Iberdrola Renewables.
According to Ceres, a national network of investors, environmental organizations and other public interest groups working with companies and investors to address sustainability challenges such as global climate change, over the past five years, wind power has accounted for 35 percent of newly installed electricity generation capacity in the United States.
Bolstered by the PTC, production costs for wind power are down over 90 percent since 1980. Yet each time the PTC has expired, annual wind capacity installations have fallen at least 73 percent in the following year. This is why investors are encouraging Congress to avoid such an outcome by extending the tax credit as soon as possible.
"Instead of threatening tens of thousands of wind power jobs, Congress should heed these investors' call and craft long-term policy that supports renewable energy and its workforce," said Mindy Lubber, director of the Investor Network on Climate Risk and president of Ceres. "For long-term infrastructure projects like upgrading our electricity grid, 'boom and bust' cycles just don't work."