Cool Planet Energy Systems has announced a breakthrough in the commercialization and affordability of biofuels from biomass. Using a mechanical process and scaling approach, the company says it can produce high octane gasoline at the cost of $1.50 per gallon without the need for subsidies and also while removing carbon from the air during the course of production.
The company, backed by Google, BP, General Electric, NRG, and others, says it has already successfully tested the technology internally as well as at Google's headquarters with its campus vehicle, GRide, that has driven 2,400 miles on the fuel. By running on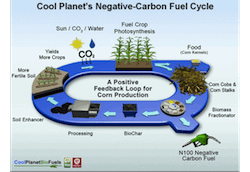 a 5% Cool Planet carbon negative fuel blended with 95% regular gasoline, the test car blend met California's 2020 Low Carbon Fuel Standard – eight years ahead of schedule according to a Cool Planet statement.
The statement also said the control car used 100 percent regular gasoline, and successfully passed five smog checks with no significant difference between cars. The total mileage of the test car was virtually the same as the control car, driving a total of 2,490 stop and go miles in the test car compared with 2,514 miles in the control car. Additionally, both the test car and the control car were virtually identical in emissions testing. Other field tests are planned.
"Innovations in alternative fuels will be key in addressing growing climate change concerns," said Brendon Harrington, Transportation Operations Manager at Google, Inc. "We are thrilled to be a part of Cool Planet's field testing and believe that this product has the potential to make a significant impact on our future energy needs."
A byproduct of producing the biofuel from biomass is the activated carbon, or biochar that can be used as a soil enhancer increasing land fertility while isolating the carbon captured from the atmosphere. According to Cool Planet, this carbon negative process results in up to a 150 percent carbon footprint reduction, which the company states is far more than any other biomass-to-fuel method.
"Unlike many other biofuel companies, Cool Planet's carbon negative gasoline is price competitive because of the ingenuity behind our innovation," said Howard Janzen, president and CEO of Cool Planet. "By mass producing mobile, pre-fabricated micro-refineries that are easily transportable to the biomass source, we significantly reduce costs of feedstock transportation, which maximizes our overall capital efficiency. Each micro-refinery is one hundred times smaller than a typical oil refinery and can produce 10 million gallons of fuel per year; this puts us in the running to compete with oil at $50 a barrel without any government mandates or subsidies."