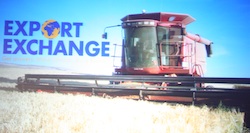 The key purpose for the 2012 Export Exchange was for buyers and sellers to meet and establish important relationships. The event sponsored by the US Grain Council and Renewable Fuels Association focused on getting answers, making contacts and building business. During the conference I had the opportunity to talk with Tom Sleight, President & CEO of the US Grains Council, about what this event means for the DDGS and the worlds grain supply.
"What we're telling customers around the world is how the US producers will be there for them. The US farmers will be there for them now and in the future. Yes, we have droughts, thats a problem we have, but for the future the US has always responded to production challenges with more acres, greater production. Our message to the international community is that the US farmer is there in the international market for keeps."

"I think out biggest thing is being all around, having boots on the ground, representatives that are selling these grains, bringing the buyers in. That's what we are doing today with over 200 buyers from around the world. Bringing them in, making contacts and making sales. It is a different kind of business and it takes being there and extending your influence and representing producers interest all around the world. That's what US Grains Council is doing."
Listen to my entire interview with Tom here: Tom Sleight at Export Exchange
The US Grains Council also announced the official approval of the Syngenta corn variety MIR 162 Agrisure Vipterra in the European Union. This opens the way for exports of US corn co-products, including DDGS and corn gluten free.
Cary Sifferath, USGC senior regional director based in Tunis, said "This approval is a great success as it opens the window of opportunity for U.S. products, including DDGS and CGF, to enter the EU market. This is especially attractive in big markets like Ireland, Spain, Portugal and the Netherlands. Their ability to import these high-protein feed ingredients is critical at a time of crop shortage in Europe and high prices. Everyone is looking for alternatives,"
You can find photos from this years Export Exchange here: 2012 Export Exchange