Despite planned trips to Iowa, Texas Governor Rick Perry and Virginia Governor Robert McDonnell declined invitations to visit an Iowa ethanol plant and cattle operation from the Iowa Renewable Fuels Association (IRFA). Both governors were part of a group that filed for waivers of the Renewable Fuel Standard (RFS2) for 2012 and 2013. At this time, the Environmental Protection Agency  (EPA) has not make a decision.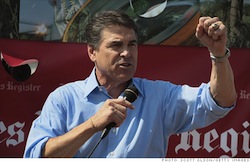 "Given that both governors made formal requests to abandon the RFS, one of the most successful energy policies in U.S. history, IRFA was very disappointed to learn that Gov. Perry and Gov. McDonnell have declined our invitation for a quick visit to an Iowa ethanol plant and family cattle operation while in the state," stated IRFA Executive Director Monte Shaw. "IRFA respects the governors' right to act in the best interest of their states as they see it, but given their national profile this would have been an excellent opportunity for them to hear the other side of the story – a side they're not hearing from the special interests in their home states."
Iowa is the leader in ethanol and biodiesel production with 41 ethanol biorefineries with the capacity to produce nearly 3.7 billion gallons of ethanal each year.
In the invitation to the Perry and McDonnell, who are both making political stops in Iowa this week, said, "IRFA would love to show you an ethanol plant in action as well as a neighboring cattle operation to demonstrate how these two important agriculture segments benefit each other, even during challenging times such as the current drought. We are certain this experience will respectfully challenge the sincere, but faulty assertions made to you regarding the need for an RFS waiver request."