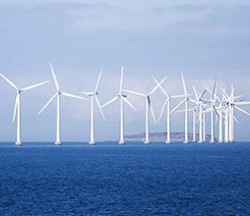 Copenhagen is the home of the upcoming Offshore Wind Health & Safety Summit taking place December 5-6. Sponsored by Wind Energy Update (WEU), the conference wil discuss safety culture, access options and training. With the increase in offshore wind projects, such as the North Sea farm power plant, it will require a larger number of workers. Smart companies, says Wind Energy Update, will position themselves to protect their employees from hazardous environments posed by offshore wind construction and operation.
"I am truly delighted to be working alongside the industry to help them meet their health and safety objectives, not only for 2012, but for the long term" explains Carrianne Matta, VP Health and Safety, for WEU. "I am thrilled to be running this year's Offshore Wind Health and Safety Summit which has such a fantastic speaker line up."
Participating companies include: RWE Innogy, RES Offshore, Statoil, DONG Energy, Mainstream Renewables, Siemens, GE Energy, Vestas, Gamesa, REpower, and GDF Suez. The companies will share experiences and strategies and safety programs that will help the industry as a whole help reduce the frequency of health and safety incidents on offshore wind projects.
For more information on the event, speakers, agenda and workshop, click here.