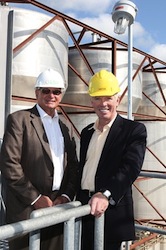 According to the Wall Street Journal, LS9 has been selected as one of the 2012 Top 10 Venture-backed Green Companies. This is not the only award bestowed on LS9 this month, they also were named to the 2012 Global Cleantech 100, a list of the top private companies in clean technology and are best positioned to solve tomorrow's clean technology challenges. LS9 is developing technology to produce renewable fuels and chemicals.
"We are honored to be named to these two distinguished lists from both the The Wall Street Journal and the Cleantech Group," said Ed Dineen, President and Chief Executive Officer of LS9. "These awards are recognition for the diligence and hard work by all LS9 employees over the past year, and for the continued advancements of our technology platform and business plan."
The Top 10 includes, beginning with the top ranked company: Recycle Rewards, Boston-Power, Opower, Tigo Energy, Sundrop Fuels, Envia Systems, Calxeda, EnVerv, LS9, and Hara Software.