Climate change is still front and center in the European Union (EU) with the European Commissioner for Climate Action Connie Hedegaard launching a new communication campaign called "A world you like. With a climate you like." Supported by more than 70 organizations across Europe, the goal of the campaign is to put practical solutions at the center of the climate change debate. It also hopes to demonstrate to people how climate action can increase welfare while bringing economic benefits to European citizens.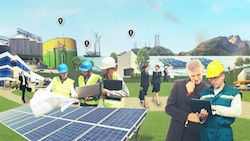 "We have a choice: We can ACT on our knowledge about climate change. Or we can sit idly by and watch as things get worse. Both options come with a price tag. So why not create a world we like, with a climate we like – while we still have time? With this campaign we want to focus the debate on the solutions and find out what is holding us back from applying them," said Commissioner Hedegaard about the campaign.
A portion of the campaign focuses on innovative climate solutions that reduce CO2 and also improve people's lives through giving real-world examples of projects that are currently doing just this. The 70 plus organizations and educational institutes participating in the campaign will be able to upload their success stories to the website and Facebook page.
The campaign will run until the end of 2013 and hopes to help the EU achieve its short-term objective of lowering greenhouse gas emission by 20 percent, improve energy efficiency by 20 percent and increase electricity created from renewable energy by 20 percent. The second objective is to achieve the long-term goal of an 80-95 percent reduction in greenhouse gas emissions by 2050. Today, EU emissions are approximately 17 percent below 1990 levels.