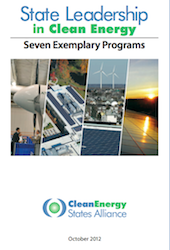 Seven winners received the 2012 State Leadership in Clean Energy (SLICE) Awards given by the Clean Energy States Alliance (CESA). The award recognize state programs that are most effectively accelerating the adoption of clean energy technologies.
This year's winners are New York's Clean Energy Business Incubator Program and On-Site Wind Market Development Program, both administered by the New York State Energy Research and Development Authority (NYSERDA); Connecticut's Clean Energy Finance and Investment Authority's (CEFIA) CT Solar Lease Program; the Massachusetts Clean Energy Center's Commonwealth Solar Hot Water Pilot Program; the New Hampshire Public Utilities Commission's Residential Wood-Pellet Boiler Rebate Program; and two projects by the California Energy Commission: the University of California, San Diego Microgrid, and the Synchrophasor Research and Development Program.
"Despite challenging economic conditions and uncertainty over continuing federal support, the SLICE Award-winning state programs have demonstrated innovation, supported emerging technologies, and advanced clean energy markets," said Mark Sinclair, Executive Director of CESA. "After a decade of experience working with clean energy funds across the country, CESA feels confident that these programs represent the best of what's out there today."
Winners were chosen by a panel of six judges that included representatives from the U.S. Department of Energy, the National Renewable Energy Lab along with experts from several other energy organizations.