Last December, U.S. District Judge Lawrence O'Neill ruled California's Low Carbon Fuels Standard (LCFS) unconstitutional. However, a stay was issued allowing implementation of the law until a federal appeals court hears arguments in the case. This is set to take place this week.
The Consumer Energy Alliance (CEA) is lobbying for the end of the LCFS. Executive Vice President Michael Whatley said, "We are optimistic that through these proceedings, it will become clear the LCFS is an unconstitutional and destructive program that will hurt California's consumers and kill jobs. Even those supporting California's LCFS have acknowledged its legal risk. CARB's claims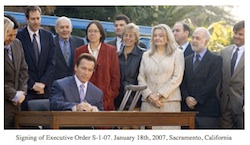 of LCFS benefits have been debunked by study after study. At the end of the day, the LCFS will double gas prices and cost our economy billions of dollars – all while failing to reduce greenhouse gas emissions."
CEA cites several studies showing that LCFS is harmful to consumers. In June 2010 Charles River Associates released a study that says it would cost the loss of between 2.3 and 4.5 million jobs; increase the price of gasoline and diesel up to 170 percent over the next 10 years; and will decrease the Gross Domestic Product (GDP) 2-3 percent.
The organization also cites a study from the Boston Consulting Group that adds that a LCFS will result in the loss of 25-35 percent of California's refining capacity and the closure of 5-7 of the state's refineries. And yet another study they cite is from Barr Engineering that poses a significant carbon emission increase could occur under a LCFS program.
While I'm not here to pick sides, it is interesting to note that both sides use the argument that "study after study" has debunked the view of the other side. I'll let you decide what to believe.