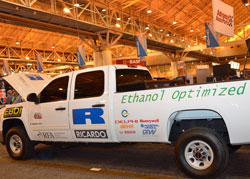 Ethanol helped to power events held as part of Automotive Service and Repair Week (ASRW) in New Orleans, October 11-13 at the Morial Convention Center.
The Renewable Fuels Association (RFA) teamed up with Bobby Likis Car Clinic Network and Ricardo on the trade show floor of the Congress of Automotive Repair and Service (CARS) and during a Myth Busters panel at the National Automotive Service Task Force meeting. The Ricardo EBDI (Extreme Boost Direct Injection) engine was on display in a GMC Sierra and Car Clinic Network television and radio programs were broadcast live from the event.
This edition of "The Ethanol Report" features comments from Automotive Service Association president Ron Pyle, RFA Director of Regulatory Affairs Kelly Davis, Ricardo Chief Engineer Powertrain Controls Dr. Matti Vint, and automotive talk show host Bobby Likis.
Listen to or download the Ethanol Report here: Ethanol Report from CARS
Subscribe to "The Ethanol Report" with this link.