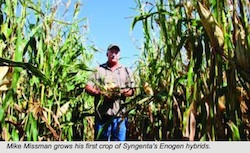 Syngenta has signed a commercial agreement with Plymouth Energy of Merrill, Iowa to use grain featuring Enogen trait technology in 2013. According to the company, Enogen trait technology eliminates the need to utilize liquid alpha amylase enzyme in dry grind ethanol production. Once incorporated into an ethanol production process, the plant will see improvements in ethanol production and also reduce energy, gas and water usage.
"As profit margins in the industry continue to shrink, we're always looking for ways to be more efficient," said Eamonn Byrne, CEO of Plymouth Energy. "We believe Enogen grain can help us do that and ultimately boost our bottom line."
Plymouth will begin using Enogen grain for the first time in the fall of 2013. Currently, Syngenta is working with growers who provide corn to the ethanol plant to contract them to grow Enogen corn for 2013. Growers who sign on will deliver the specialty grain next fall. Enogen grain production contracts require growers follow specific, yet simple stewardship protocols. In return, growers are paid a premium price for each bushel of Enogen grain delivered to the ethanol plant per the contract terms.
David Witherspoon, head of renewable fuels for Syngenta, added, "Enogen corn adds tremendous value for both ethanol plants and their local communities. With Enogen corn, ethanol plants not only create greater profit potential for their business, but they help put money back in the growers' pocket as well."