The 2013 Clean Energy Challenge, funded by the Clean Energy Trust, has kicked off with more than $300,000 in cash prizes waiting to be won. Researchers, students and entrepreneurs with transformative clean tech business ideas based in the Midwest, are encouraged to submit their businesses and concepts through the Clean Energy Exchange.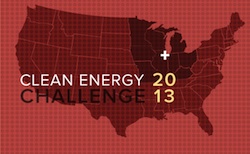 The Clean Energy Challenge is a two-track competition for projects in different stages of development. The Early Stage Challenge is for clean tech projects with fully-developed business plans and established start-up companies. The Student Challenge is for students in eight-state Midwest region who have a great idea, and need assistance in developing a clean energy business.
"The very best clean technology innovations are being developed in the Midwest and the Challenge ensures that those ideas are presented to the venture capitalists, businesses and investors who can bring them to market," said Amy Francetic, executive director of the Clean Energy Trust. "The cash prizes and commercialization support kick start Clean Energy Challenge Finalists, which have all gone on to receive significant venture and federal funding."
Applications are encouraged from Midwest entrepreneurs working in: Energy Storage; Hydrogen & Fuel Cells; Geothermal; BioEnergy; Solar Technologies; Wind Energy; Water-Energy Nexus; Recycling and Remediation; Energy Efficiency; Building Materials; Energy Management; Smart-Grid; Next Generation Transportation; and Manufacturing Efficiency.
Finalists will receive mentoring from the Clean Energy Trust in preparation for the Challenge finals taking place in Chicago on April 4, 2013. The judging panel is comprised of nationally renowned investors and clean technology business leaders. The application deadline is December 3, 2012. Complete rules and eligibility for the Challenge are available at www.cleanenergytrust.org.